Worldwide Shipping
Free UK shipping on orders over £30
Loyalty Scheme
reward points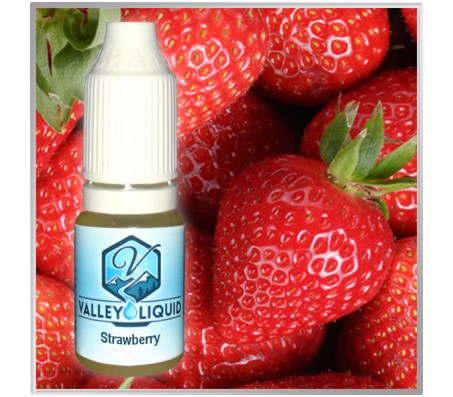 Strawberry - Valley Liquids
Brand: Valley Liquids
Product Code: Valley
Reward Points: 30
Availability: In Stock
Ex Tax: £3.33
Price in reward points: 300
3 or more items from Valley Liquid at £3.33
10 or more items from Valley Liquid at £2.99
Nothing can be compared to freshly harvested strawberries, especially if you like its characteristic, sweet aroma. This liquid is the best you can find if you do not just want to eat it, but vape it! Not something that's just similar to the real fruit, you can feel the taste of stunningly fresh strawberries in it, and also it can be a perfect base if you want to do a mixture (if you mix it with Cool Lemonade, you can get an amazing strawberry lemonade!).
All Valley Liquids e-liquids has a 60%VG-40%PG mix, made from the purest Pharma grade Glycerol, and Propylene Glykol. They do NOT contain Diethylene Glycol (DEG) or other solvents that are commonly used in many products; therefore our juice is thicker than the average.
You can choose between 0 mg (free), 3 mg (extra low), 6 mg (low), 12 mg (medium), and 18 mg (high) nicotine strength. The e-liquid is delivered in a 10 ml LDPE (plastic) bottle with thin tip for easy filling. It has a childproof cap.
E-liquid is best stored in room temperatures between 10-25 ºC. All nicotine fluids must be kept in a safe place and away from children & pets. In case of an accident, or if you feel unwell seek medical advice immediately.
Write a review
Note: HTML is not translated!
Rating: Bad Good
Enter the code in the box below: