Worldwide Shipping
Free UK shipping on orders over £15.00
Loyalty Scheme
reward points
Atomizer Heads
Aspire Pockex Coil Heads Aspire PockeX coils are 0.6ohm and are rated for use at 18-2.....
Aspire Triton BVC Heads The Aspire Triton replacement coils are for users looking to take adv.....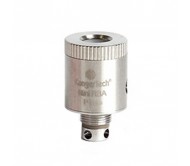 Replacement Kanger Mini RBA Deck Plus V2 This RBA deck is a direct replacement for th.....
Showing 1 to 11 of 11 (1 Pages)
Sign up for our newsletter for exclusive updates on contests, new products, and more.