Worldwide Shipping
Free UK shipping on orders over £15.00
Loyalty Scheme
reward points
Eleaf
Eleaf Electronics Co., Ltd. was established in 2011, located in Shenzhen city. Eleaf has quickly become one of the best-known vaping brands in the world throughout our continuous efforts and creative spirit. Decent cooperative relationship with our distributors and attentive service to end customers have enabled Eleaf a worldwide famous vaping brand. We also support OEM and ODM applications to meet different distributors' needs. All members in Eleaf factory are endeavoring to provide the worlds' best vaping experience.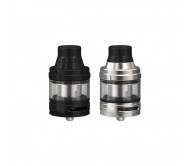 The ELLO tank comes with an all-new HW series coils, bringing you ultimate vaping experience wit.....
Eleaf HW Coil Head Replacement coil head for this Vape Kits: iJust NexGen , El.....
Showing 1 to 2 of 2 (1 Pages)