Worldwide Shipping
Free UK shipping on orders over £30
Loyalty Scheme
reward points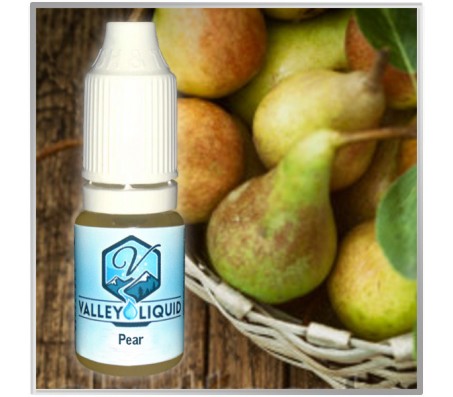 Pear - Valley Liquids
Brand: Valley Liquids
Product Code: Valley
Reward Points: 30
Availability: In Stock
Ex Tax: £3.33
Price in reward points: 300
3 or more items from Valley Liquid at £3.33
10 or more items from Valley Liquid at £2.99
This liquid is so tasty it's like it's full of sun-ripened, freshly handpicked pears. There are about 3000 known varieties of pear grown worldwide, and we've mixed the best of them just for you, for our customers. The flavour is very clear, not too sweet, even if you vape just this all day you can't get bored of it. If you like fruity juices, and also have a passion for pears, then this liquid should suit your taste.
All Valley Liquid e-liquids has a Premium quality UK made e-liquid. This e-liquid has a 60%VG-40%PG mix, made from the purest Pharmaceutical grade (USP/EP) ingredients.
You can choose between 0 mg (free), 3 mg (extra low), 6 mg (low), 12 mg (medium), and 18 mg (high) nicotine strength. The e-liquid is delivered in a 10 ml LDPE (plastic) bottle with thin tip for easy filling. It has a childproof cap.
E-liquid is best stored in room temperatures between 10-25 ºC. All nicotine fluids must be kept in a safe place and away from children & pets. In case of an accident, or if you feel unwell seek medical advice immediately.
Write a review
Note: HTML is not translated!
Rating: Bad Good
Enter the code in the box below: