Aspire Atlantis EVO Coils - pack of 5
Brand: Kangertech
Product Code: EV
Availability: In Stock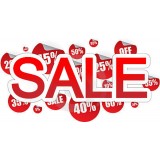 Aspire Atlantis EVO Coil Heads
The Aspire Atlantis EVO Replacement Coils are efficiently designed with lower positioned wick points for optimized juice flow allowance while outputting fantastic flavor and efficient vapor, specifically catering to the Aspire EVO Sub-Ohm Tank. The Atlantis EVO Coil features a Kanthal Clapton core that features full organic cotton in two configurations, with a 0.4ohm coil that has a range of 40 to 50W and a 0.5ohm coil with a range of 35 to 40W.
The Atlantis EVO coils are compatible with the Aspire Atlantis EVO, but also compatible with the existing tanks in Aspire's range, including the original Atlantis, Atlantis 2, Triton, and Triton 2 tanks.
Resistance options:
0.4 Ohm Kanthal Clapton: 40 - 50W (2.2mm spacing)
0.5 Kanthal Clapton: 35 - 40W (1.3mm spacing)
Compatibility:
Atlantis EVO
Atlantis
Atlantis 2
Triton
Triton 2
Write a review
Note: HTML is not translated!
Rating: Bad Good
Enter the code in the box below: