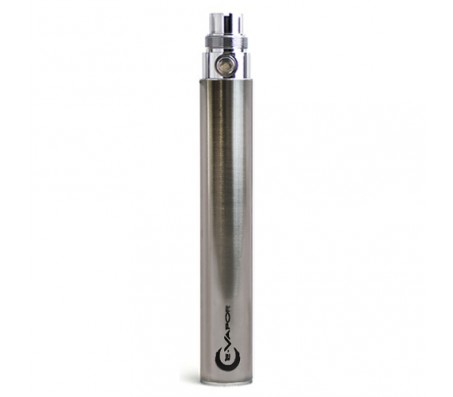 eGo Supreme Stainless Steel 1100mAh battery
Brand: Evapor
Product Code: EV
Availability: Out Of Stock

The eGo type electronic cigarette is probably the most popular device among vapers. It offers the ease of use with an excellent performance, which is why it gained its reputation.
The eGo's have a 510-eGo threading , therefore these batteries are capable of operating with almost all the atomizers on the market.
The battery is equipped with a charge indicator. The button lights up red instead of blue when the charge level is below 20%
The built in protection allows the battery to handle the high energy consumption devices such as low resistance and dual coil cartomizers/atomizers as well , safely and reliably.
The eGo battery features a decent capacity of 1100 mAh, which allows the vaper ( depending on usage ) an all day vaping experience with just one charge. Heavy vapers usually use 2 batteries a day.
The device can be deactivated by pressing the button five times simultaneously. However the device has a 10 second safety cut off, so it is ideal for safe pocket holding, or to avoid unwanted firing.
Battery length:
1100 mAh: 95 mm/ 14 mm
Voltage output: 4.2-3.3V
Charging time: 2 hours
6 months warranty
Write a review
Note: HTML is not translated!
Rating: Bad Good
Enter the code in the box below: