Worldwide Shipping
Free UK shipping on orders over £30
Loyalty Scheme
reward points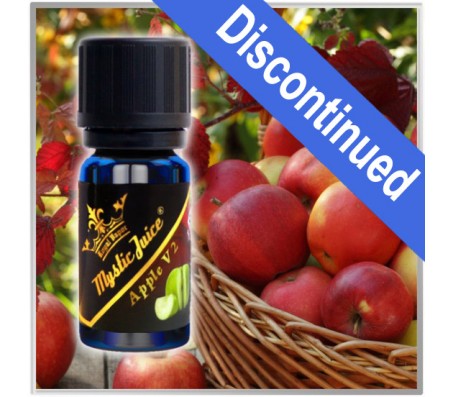 Apple
Brand: Royal Vapor
Product Code: RV
Reward Points: 10
Availability: Out Of Stock
Ex Tax: £0.00
Price in reward points: 300
The first sin of mankind was a bite from an apple from the Tree of Knowledge - but who doesn't want to eat a crunchy, freshly picked apple? Doesn't matter if it's golden, starking, Jonathan or anything else, apple is one of the worlds favourite fruits to eat, and now you can vape it too! After you try it, "apple juice" will have a new meaning for you, the awesome Mystic Apple juice! Show your wisdom by vaping apple!
All Mystic Juice e-liquid 60%VG-40%PG mix, made from the purest Pharma grade Glycerol, and Propylene Glykol.
They do NOT contain Diethylene Glycol (DEG) or other solvents that are commonly used in many products; therefore our juice is thicker than the average.
You can choose between 0 mg (free), 6 mg (low), 12 mg (medium), 18 mg (high) and 24 mg (very high) nicotine strength. The e-liquid is delivered in a 10ml leak proof UV protected glass bottle (for best preserving the quality). It has a childproof and tamper evident cap.
E-liquid is best stored in room temperatures between 10-25 ºC. All nicotine fluids must be kept in a safe place and away from children & pets. In case of an accident, or if you feel unwell seek medical advice immediately.
Write a review
Note: HTML is not translated!
Rating: Bad Good
Enter the code in the box below: