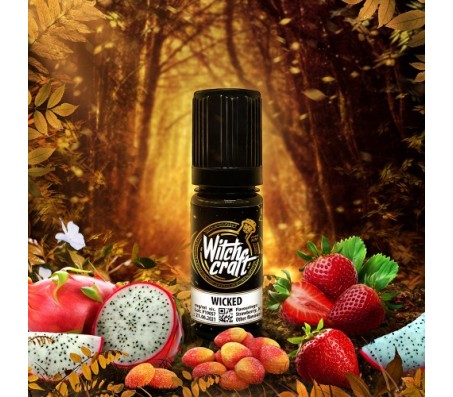 Wicked - Witchcraft - 10 ml
Brand: Witchcraft
Product Code: Witchcraft
Reward Points: 30
Availability: In Stock
Price in reward points: 300
3 or more items from 10ml Witchcraft at £3.33
10 or more items from 10ml Witchcraft at £2.99
Witchcraft Wicked 10ml
A hedonistic mixture, rich as dragons breath, with a cooling touch to keep even the fiercest dragons exhale sweet and fruity. A blend of sensually wicked strawberry, overlaid with sour dragonfruit in a juice that will make you want to take some time off from plundering villages and bask in the flavour of this fruity delight.
Witchcraft is a Premium quality UK made e-liquid. This e-liquid has a 60%VG-40%PG mix, made from the purest Pharmaceutical grade (USP/EP) ingredients.
You can choose between 0 mg (free), 3 mg (extra low), 6 mg (low), 12 mg (medium), 18 mg (high) nicotine strength. The e-liquid is delivered in a 10 ml leak proof plastic bottle. It has a childproof and tamper evident dripper cap.
E-liquid is best stored in room temperatures between 10-25 ºC, away from direct light or heat. Only for use in electronic cigarettes ( Refer to device manufacturer for refilling instructions). Use to refill atomizer or clearomizers. This product is only intended for existing smokers who are over the age of 18. Not to be sold or used by person under 18 years of age. All nicotine fluids must be kept in a safe place and away from children & pets. Consult your doctor if you are pregnant, breast feeding, allergic to nicotine or propylene glycol, or have high blood pressure. In case of an accident, or if you feel unwell seek medical advice immediately.
Write a review
Note: HTML is not translated!
Rating: Bad Good
Enter the code in the box below: